I-Beam buildings are fully customized to meet the specific needs of each project. Our I-Beam buildings are the most economical s building of choice: energy efficient, low maintenance cost and quick to complete.
I-Beam buildings are available in a wide variety of shapes and sizes and are designed to act as an integrated building system. All our building components are engineered to work together: meet all load requirements, protect building contents from weather and limit hot-cold thermal transfer. They are designed to keep you and your products safe.
Every precision-fit building component is planned, drilled and fabricated in a state of the art controlled environment. This makes our I-Beam buildings easy to erect, which saves our customers both time and money. Schuler Structures components are entirely USA made!
Every frame is designed to meet our customers specific building requirements. We have the engineering expertise to design interiors with wide-open spaces, unusual ceiling heights and extreme load requirements. Our frame design can accommodate cranes, monorails, mezzanines and other custom requirements. You dream it, we can design and build it.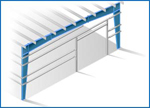 Single Slope
Clearspan frames are most often used in buildings where unobstructed interior space is required. Common uses include: aircraft hangars, arenas, tennis centers, soccer centers, riding arenas, manufacturing facilities, warehouses, offices and retail stores. No interior columns also provide the space required for material handling and crane systems.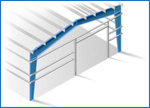 Double Slope
Multi-span frames are commonly used for building layouts that permit interior columns. The spacing between columns can be consistent or varied to meet the necessary requirements. Large open floor spaces are accommodated by using the minimum number of columns. This provides large open space and ease of movement for fork lifts, etc. Common uses include: manufacturing plants, warehouses, truck terminals and retail stores.
Schuler Structures I-Beam building kits are the most comprehensive in the industry. You tell us what you want and sit back and watch the magic happen.